Things have been somewhat quiet as of late, but we are back with a new news post on this Tuesday morning, featuring a few short new videos from each side of the border, and to kick things off,
two
new albums from regional hard rock musicians, so here's what you should know!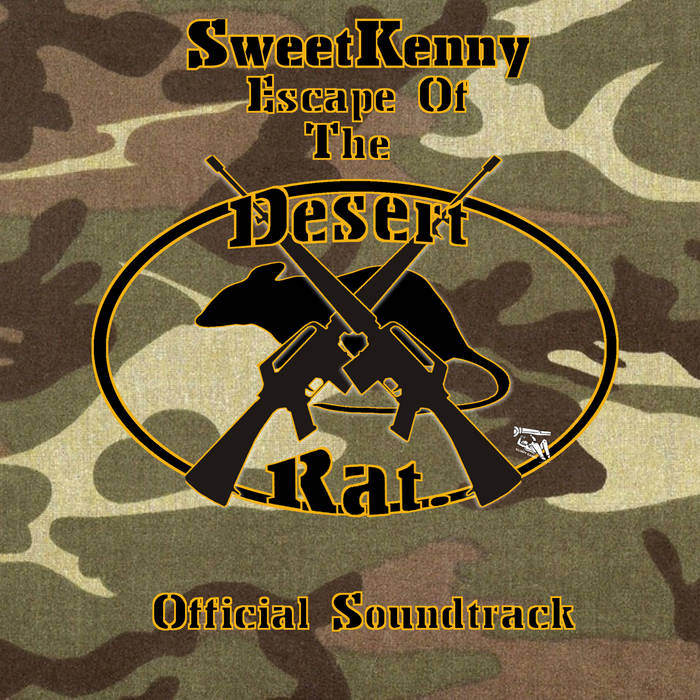 The newest album from Dafter, Michigan solo hard rock musician Ken
"SweetKenny"
Sutton was released as scheduled this past Wednesday! Entitled
"Escape of the Desert Rat"
, this is his
eleventh
to be themed as a score for use in other media, though Ken visualizes it as a video game score, even giving it a plot outline on
his website
. If left up to him, the story is about a United States military colonel who leads an elite strike force team, but has to escape capture by Sudanese rebels, but potential licensees could theoretically adapt it as they wished. "Escape of the Desert Rat" is available for $9.99 on
his Bandcamp page
, and while it is his first new album release of 2018, remember that we will
not
be reviewing it this month. Instead, we'll be looking at SweetKenny's August score album
"The Dogs Are Watching"
, as it's material is slightly heavier, so look for that review soon!
Also, while his scores remain his current focus, one new traditional original is now on
his YouTube channel
, so what should you know on it? Entitled
"Bikini"
, it's a rock instrumental with a 1960s British Invasion vibe that fans of his older material should enjoy! However, I have chosen not to embed it here due to it's featured video (borrowed clips from a rap music video and of bikini models suggestively washing a car), as some of the content may be considered inappropriate or objectifying. Give it a listen if you want though!
Next up, here's another new solo hard rock album to take note of from a local musician, that being Sault Ontario's own Mike McCleary, who put out his surprise EP
"Hourglass"
on January 8th! This is
not
a renaming of the previously announced "Weight of the Truth", that's coming in the near future, but Mike noted on
his Facebook page
that he chose to release "Hourglass" first due to "the timeliness of its message." In particular, this five song EP addresses topics like assimilation, gender inequality, racism, and poverty, and how they are handled in reality. All five songs have previously been shared in varying forms on
Mike's Soundcloud page
, and if you're missing a favourite, watch for follow-up releases. It should be noted that Mike did release a debut album called
"In Ruins"
to online streaming services last June (before we discovered him for site coverage), but it has since been pulled from iTunes, Spotify, and Deezer, and was never acknowledged on Facebook, so he may intend to rework that album and/or it's songs.
"Hourglass" is available
on Bandcamp
for $4.95 and is also on iTunes and Spotify, so consider streaming or buying it through those sites to hear Mike's newest (first official?) release! As for when to expect a review of it... next month is very possible, though if teasers regarding "The Weight of the Truth" prove to see it's release in the coming weeks, we could pick that instead. "In Ruins" wouldn't jump ahead in line as it's not a "new" album anymore, and who knows if it's being tinkered with. In any event, February is very possible for our first ever Mike McCleary album review, so stay tuned for updates!
Also today, here's the latest from local/St. Catharine's grindcore trio
Shit Liver
, so what's new from their camp? Well, they will hit the road with a Southern Ontario tour run with Owen Sound sludgecore band
Cruel Bloom
early next month, which join a previously announced Windsor show in two weeks where they'll help open that city's thrash band
Plague's CD release concert
. No word on a local concert return yet, but it's great to see the guys keeping busy! Shit Liver have also been seen in a few news
Facebook page
videos from late last year, including
this 2 second video
from New Year's Eve featuring Matt Baic drumming while standing up. Ultra brief, but he's definitely in the zone for those 2 seconds! The other video is a proper live clip from their Hamilton concert at
Doors
in November where they opened for past local headliners
Uncle Ray
, as shared from attendee Zixuan Chen's page. While it's also brief (37 seconds), at least we get some solid quality footage from a high camera angle, so give it a look below!
Finally for today, here's some brief new videos from Sault Michigan independent label
Werehold Records' YouTube channel
, though these aren't your standard postings. Instead, these feature label head/Life's Eclipse guitarist Jason Mills testing five microphones across two videos by playing the same heavy guitar riff. You can see the second part (featuring a pair of MXL microphones) at
this link
, but embedded below is the longer video comparing three. I think the MXL 990 on the second video has the clearest sound, but the SM57 has a scratchier tone that might work better for a punk song. Compare for yourself above and below!
That's all for today, but stay tuned for more news and updates on The Sault Metal Scene as the week rolls along! Thanks everyone!